Braschs are open for business as usual!

We have additional precautions in place to ensure our customers and staff are safe;
we are providing sanitizer and have increased our cleaning regime.



Stihl Battery Blower BGA 100 Skin Only
Maximum blowing power minimal noise

Pleasantly quiet, lightweight and very powerful battery blower for professional use, especially in urban, noise-sensitive areas. Round nozzle, soft handle, three power levels with additional boost function, three-level length-adjustable blower tube, lifting eye for support cushion.
The AR 3000 backpack battery with support cushion and comfort carry ring is recommended when working for extended periods, while the AP battery is available for shorter periods of work.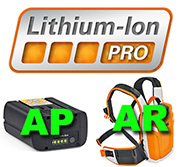 Compatible with AP & AR series batteries

Battery Blowers
Weight:
2.5 kg excluding battery
Battery Technology:
Lithium-Ion PRO
Battery Life Time AP200:
up to 55 mins approx
Battery Life Time AP300:
up to 83 mins approx
Battery Life Time AR3000:
up to 395 mins approx