Braschs are open for business as usual!

We have additional precautions in place to ensure our customers and staff are safe;
we are providing sanitizer and have increased our cleaning regime.



Stihl Battery Chainsaw 161 T - Skin Only
STIHL MSA 161 T Arborist Battery Chainsaw

BATTERY POWER FOR ARBORISTS JUST GOT FASTER
Very easy to use and ergonomic, whether climbing a tree or working from a cherry picker, the machine fires up in seconds, accelerates promptly and is instantly ready for precise, powerful cutting. Due to its low noise level, it eliminates the need for ear protection, and makes it easier to communicate safely with colleagues on the ground. Great for removing deadwood and its clean cutting improves overall tree health.
The new upgraded MSA 161 T is almost here. With a more responsive hand guard, this product has 15% more power and a 40% faster chain speed than the MSA 160 T.
The new side-lock system with enlarged interlock allows for greater comfort and improved handling when doing multiple cuts.
Recommended Battery: AP 200 – 42 minute run time (upgrade version)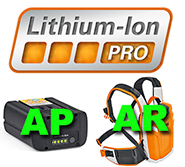 Compatible with AP & AR series batteries

Battery Chainsaw
Weight Without Battery:
2.3 kg includes bar + chain
Rollomatic E Cutting Length:
30 cm
STIHL Oilomatic Saw Chain Pitch/type:
Picco Micro 3 (PM3)
Battery Life Time AP200:
up to 42 mins approx
Battery Life Time AP300:
up to 50 mins approx
Battery Technology:
Lithium-Ion PRO