Braschs are open for business as usual!

We have additional precautions in place to ensure our customers and staff are safe;
we are providing sanitizer and have increased our cleaning regime.



Stihl Battery Chainsaw 160 C-BQ Skin Only
Innovative battery chain saw

Very handy and low-noise battery chain saw with a powerful lithium-ion battery. Ideal for noise sensitive areas and inside buildings.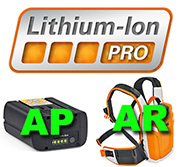 Compatible with AP & AR series batteries

Battery Chainsaw
Weight Without Battery:
2.6 kg includes bar + chain
Rollomatic E Cutting Length:
30
STIHL Oilomatic Saw Chain Pitch/type:
Picco Micro 3 (PM3)
Battery Life Time AP180:
up to 40 mins approx
Battery Life Time AP200:
up to 45 mins approx
Battery Life Time AP300:
up to 50 mins approx
Battery Life Time AR900:
up to 180 mins approx
Battery Technology:
Lithium-Ion PRO