Braschs are open for business as usual!

We have additional precautions in place to ensure our customers and staff are safe;
we are providing sanitizer and have increased our cleaning regime.



Stihl Battery Hedge Trimmer HSA 86 Skin Only
More power, less weight, zero maintenance
This highly efficient battery hedge trimmer is a great all rounder for home owners, large property owners and professionals alike. Lighter than its predecessor (HSA 85), this machine delivers longer running times and a long machine life, thanks to a new brushless electronic motor, which maintains constant power even under heavy loads.
An optimised cutter bar means increased cutting performance, for clean, quick cuts and STIHL cordless technology means zero maintenance for a fuss-free garden.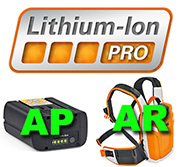 Compatible with AP & AR series batteries

Battery Hedge Trimmers
Weight kg:
3.3 without battery
Maximum Cutting Diameter mm:
26
Battery Technology:
Lithium-Ion PRO
Battery Life Time AP115:
up to 80 mins approx
Battery Life Time AP180:
up to 140 mins approx
Battery Life Time AP200:
up to 120 mins approx
Battery Life Time AP300:
up to 180 mins approx
Battery Life Time AR900:
up to 660 mins approx
Battery Life Time AR1000:
up to 450 mins approx
Battery Life Time AR3000:
up to 800 mins approx