Braschs are open for business as usual!

We have additional precautions in place to ensure our customers and staff are safe;
we are providing sanitizer and have increased our cleaning regime.



Stihl Battery Hedge Trimmer HSA 94 R Skin Only
Professional cordless hedge trimmer - PRUNING version
Extremely high-performance and robust professional battery hedge trimmer with low blade speed for powerful cuts. The R variations provide the possibility of cutting of thicker branches and completing clearing work faster and more easily.
Constant stroke rate (even under extreme load when performing heavy pruning).
Rotating multi-function handle with three-setting stroke rate.
Double-sided cutting blade in the pruning version.
Screw-on cut and tip protector.
Bar length 75 cm.
Without battery and charger.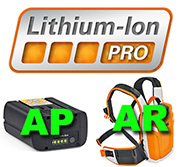 Compatible with AP & AR series batteries

Battery Hedge Trimmers
Weight kg:
4.4 without battery
Battery Technology:
Lithium-Ion PRO
Battery Life Time AP200:
up to 90 mins approx
Battery Life Time AP300:
up to 135 mins approx
Battery Life Time AR1000:
up to 380 mins approx
Battery Life Time AR3000:
up to 700 mins approx