Braschs are open for business as usual!

We have additional precautions in place to ensure our customers and staff are safe;
we are providing sanitizer and have increased our cleaning regime.



Stihl Battery Telescopic Hedge Trimmer HLA 85 - Skin Only
Professional - telescopic & versatile
The Stihl HLA 85 telescopic hedge cutter is a versatile addition to the Stihl cordless range.
The HLA 85 features an adjustable cutter which makes it suitable for a number of tasks on tall or deep hedges. With a total extended length of 3.3m it gives the operator a safer approach to taller hedges.
The Skin is lightweight
Has very low vibrations.
Suitable for professionals who would use the machine for extended periods.
The brushless EC motor keeps maintenance to a minimum while increasing the Skin's running time.
Without battery and charger.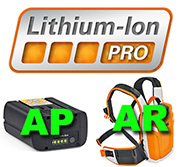 Compatible with AP & AR series batteries

Battery Hedge Trimmers
Weight kg:
4.4 without battery
Maximum Cutting Diameter mm:
26
Battery Technology:
Lithium-Ion PRO
Battery Life Time AP115:
up to 80 mins approx
Battery Life Time AP200:
up to 120 mins approx
Battery Life Time AP300:
up to 180 mins approx
Battery Life Time AR900:
up to 660 mins approx
Battery Life Time AR3000:
up to 800 mins approx