Braschs are open for business as usual!

We have additional precautions in place to ensure our customers and staff are safe;
we are providing sanitizer and have increased our cleaning regime.



Stihl Battery Long Reach Hedge Trimmer HLA 65 - Skin Only
Professional cordless long reach hedge trimmer
Quiet long reach battery hedge trimmer with a powerful lithium-ion battery. Adjustable gear head 105°. For horizontal or vertical cutting, it handles comfortably in any position. Tall and wide hedges are its specialty. Ideal for use in noise-sensitive areas.
The HLA 65 is an ergonomic and well-balanced Skin
Maintains a constant engine speed regardless of the load.
Can be folded down to a length of just 125 cm so it fits easily into a car.
Adjustable for vertical and overhead cutting.
Perfect for trimming tall and wide hedges.
Without battery and charger.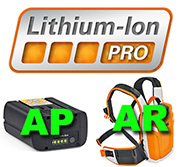 Compatible with AP & AR series batteries

Battery Hedge Trimmers
Weight kg:
3.5 without battery
Maximum Cutting Diameter mm:
26
Battery Technology:
Lithium-Ion PRO
Battery Life Time AP200:
up to 120 mins approx
Battery Life Time AP300:
up to 180 mins approx
Battery Life Time AR900:
up to 660 mins approx
Battery Life Time AR3000:
up to 800 mins approx