Braschs are open for business as usual!

We have additional precautions in place to ensure our customers and staff are safe;
we are providing sanitizer and have increased our cleaning regime.



Stihl HTA 85 Battery Pole Pruner - Skin Only
Setting new heights
This quiet, lightweight cordless pole pruner cuts and trims trees up to 5 meters tall cleanly, quickly and comfortably.
The HTA 85 is perfect for noise-sensitive areas such as parks, schools, hospital grounds and residential areas.
Thanks to its telescopic shaft, the pruner can be adjusted between 2.7 meters and 3.9 meters.
With a quick action, tool-free locking system.
Recommended bar length 30cm/12".
Without battery and charger.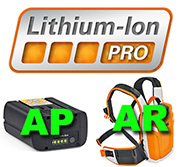 Compatible with AP & AR series batteries

STIHL EC-Engine
The STIHL brushless electric motor (EC) is very energy efficient and practically maintenance free. Thanks to its outstanding efficiency, the battery power is directly translated into impressive performance. During operation, the electronically controlled EC motor permanently monitors the load and adjusts the engine accordingly.
Battery Hedge Trimmers
Weight kg:
4.8 with bar + chain
Total Length cm:
270 - 390
Battery Technology:
Lithium-Ion PRO
Blade Length:
30 cm recommended
Battery Life Time AP180:
up to 40 mins approx
Battery Life Time AP200:
up to 35 mins approx
Battery Life Time AP300:
up to 55 mins approx
Battery Life Time AR900:
up to 180 mins approx