Braschs are open for business as usual!

We have additional precautions in place to ensure our customers and staff are safe;
we are providing sanitizer and have increased our cleaning regime.



Stihl ASA 65 Battery Pruning Shears - Skin Only
Lightweight cordless pruning and vine pruning shears with high cutting force
Fast cordless trimmer offering outstanding cut for shoots and thinner branches. Suitable for work including in wine-growing, fruit-growing and olive growing.
Can be used by right and left-handed users alike.
Sturdy aluminium housing.
Ergonomic handle.
Electronically adjustable blade opening.
Easy blade change process.
ASA 65 excluding battery and charger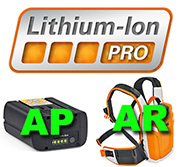 Compatible with AP & AR series batteries

Battery Pruning Shears
Weight Without Battery:
0.74 kg - includes blades
Recommended Battery:
AP 200
Maximum Cutting Diameter:
35 mm
Battery Life Time AP200:
up to 420 mins approx
Battery Life Time AP300:
up to 630 mins approx