Braschs are open for business as usual!

We have additional precautions in place to ensure our customers and staff are safe;
we are providing sanitizer and have increased our cleaning regime.



Stihl ASA 85 Battery Pruning Shears - Skin Only
Cordless pruning shears
Powerful cordless pruning shears for branches up to 45 mm thick. Ideal for pruning work in public gardens, orchards, tree nurseries and in viticulture.
Sturdy aluminium housing.
Ergonomic handle shape.
Electronically adjustable four-stage blade opening.
Weight 960 gram.
ASA 85 excluding battery and charger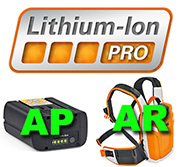 Compatible with AP & AR series batteries

Battery Pruning Shears
Weight Without Battery:
0.98 kg - includes blades
Recommended Battery:
AP 300
Maximum Cutting Diameter:
45 mm
Battery Life Time AP200:
up to 400 mins approx
Battery Life Time AP300:
up to 600 mins approx