Braschs are open for business as usual!

We have additional precautions in place to ensure our customers and staff are safe;
we are providing sanitizer and have increased our cleaning regime.



Stihl Battery Brushcutter FSA 130 R Skin Only
Powerful yet lightweight battery brushcutter with a loop handle for working on large areas of tough grass and mowing around obstacles, trees and posts.This trimmer features a 280mm cutting diameter, ECOSPEED variable speed control, single shoulder harness and AutoCut mowing head. No ear protection is required. Price excludes battery and charger.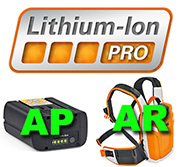 Compatible with AP & AR series batteries

Battery Trimmers
Weight kg:
3.9 kg including battery
Total Length cm:
175cm - without cutting tools
Cutting Tool:
AutoCut C 26-2
Battery Life Time AP200:
up to 30 mins approx
Battery Life Time AP300:
up to 40 mins approx
Battery Life Time AR1000:
100/85/70 depending on cutting level & application
Battery Life Time AR3000:
190/150/125 depending on cutting level & application