Braschs are open for business as usual!

We have additional precautions in place to ensure our customers and staff are safe;
we are providing sanitizer and have increased our cleaning regime.



Stihl FSA 65 Battery Grass Trimmer Skin Only
Battery grass trimmer for thinning work. Cutting diameter 300mm. Rubberised two-component handle, infinitely variable loop handle.
The mowing line automatically readjusts when the mowing head is tapped on the ground. For all grass trimming in domestic and light-commercial applications.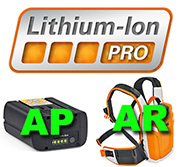 Compatible with AP & AR series batteries

Battery Trimmers
Weight kg:
2.7 excl battery cutting tool & guard
Total Length cm:
153cm - without tools
Cutting Tool:
AutoCut C4-2
Battery Life Time AP115:
up to 40 mins approx
Battery Life Time AP180:
up to 70 mins approx
Battery Life Time AP200:
up to 50 mins approx
Battery Life Time AP300:
up to 75 mins approx
Battery Life Time AR3000:
up to 380 mins approx