Braschs are open for business as usual!

We have additional precautions in place to ensure our customers and staff are safe;
we are providing sanitizer and have increased our cleaning regime.



Stihl FSA 85 Battery Grass Trimmer Skin Only
Light, quiet and powerful battery trimmer with comfortable thread mower head AutoCut C 4-2 and extended cutting circle for output and smaller mowing head.
With practical distance bracket when mowing along obstacles and to trees and shrubs.
Ideal for mowing in noise-sensitive environments such as in parks or cemeteries.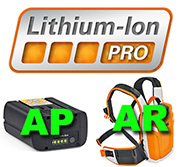 Compatible with AP & AR series batteries

Battery Trimmers
Weight kg:
2.8 excl battery cutting tool & guard
Total Length cm:
165cm - without tools
Cutting Tool:
AutoCut C4-2
Battery Life Time AP115:
up to 20 mins approx
Battery Life Time AP180:
up to 35 mins approx
Battery Life Time AP200:
up to 30 mins approx
Battery Life Time AP300:
up to 45 mins approx
Battery Life Time AR3000:
up to 220 mins approx