Braschs are open for business as usual!

We have additional precautions in place to ensure our customers and staff are safe;
we are providing sanitizer and have increased our cleaning regime.



Stihl MS 261 C-M Chainsaw
With M-Tronic Engine Management

Professional petrol chainsaw 40cm/16'' bar
The MS 261 C-M is a rugged all-rounder equipped with STIHL's environmentally friendly 2-MIX engine technology for less fuel consumption and less emission and outstanding cutting performance.
In addition the MS 261 features the HD2 air filter for long filter life.
The new MS 261 C-M has taken performance to a new level.
STIHL M-Tronic (M)
This fully electronic engine management system adjusts ignition timing and fuel metering in all operating modes. It also takes external conditions such as temperature, altitude and fuel quality into account. It ensures consistent engine performance, a constant maximum speed and superb acceleration. M-Tronic makes manual carburettor adjustments unnecessary.
Thanks to electronic cold/warm start recognition, now there is only one start position on the combi-lever. The engine starts after fewer pulls and with no change of position, and can immediately accelerate up to speed - even after a cold start. M-Tronic also remembers the settings from the last time the tool was used. So when external conditions are the same, optimal engine performance is available every time you start up again.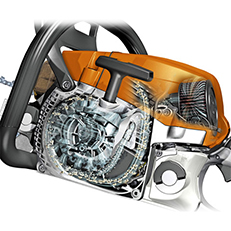 Long-life air filter system with HD2 filter
The new professional Stihl chainsaws will win you over with a filter life that is five times longer. They are equipped with a long-life air filter system that removes coarse dirt particles by pre-separation. The new HD2 filter made from polyethylene filter material filters out the finest dust particles and is easy to clean. The PET-covered round filter cartridge can be replaced quickly and without tools. The radial seal minimises the amount of dirt in the carburettor - similar to illustration.

---
Chainsaw
Power Output:
2.9 kW - 3.9 BHP
Weight:
5.2 kg - without fuel, bar & chain
STIHL Oilomatic Saw Chain Pitch/type:
0.325"
Bar Length:
40 cm - 16 inch