Braschs are open for business as usual!

We have additional precautions in place to ensure our customers and staff are safe;
we are providing sanitizer and have increased our cleaning regime.



Stihl TSA 230 Cordless Cut-off Machine - Skin Only
Lightweight, maneuverable, and surprisingly powerful.
Stihl has combined its vast experience of cut-off saws with its enduring Lithium-Ion battery technology to power the new TSA 230 cut-off machine. With no fuel or emissions its battery power makes it suited to use indoors and in enclosed spaces; it is also very quiet running.
Cutting neatly and swiftly up to 70mm deep, the choice of STIHL abrasive wheels gives the new model the capacity to cut steel and metal pipes, through to concrete, bricks and roof tiles.
Very easy and comfortable to handle. For various applications in civil engineering. Ideal for builders, roofers, gardeners and landscapers. 36V. STIHL recommends the use of the AP 300 battery for maximum performance.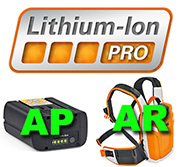 Compatible with AP & AR series batteries

Battery Cut-off Saw
Maximum Cutting Depth:
70 mm
Recommended Battery:
AP 300
Battery Life Time AP200:
up to 12 mins approx
Battery Life Time AP300:
up to 18 mins approx
Battery Life Time AR3000:
up to 95 mins approx